On #satchat, the Twitter chat I participated in this past Saturday, the questions that were being posed where around the theme, An Education Worth Having.  There were three national chats, to hit various time zones, and basically, the chat dialogue reflected around the topic of student engagement.  My tweets were geared to how our teachers are trying to engage our students using the NYS modules and not making it boring.  One of my tweets was to start using Fun-o-meter's, something like this:
(Yeah, use that for staff meetings too!  Stop it, I try. LOL)
All kidding aside, how are you engaging your students?  Watch your students during instruction, are their eyes glazing over?  Are they staring out the window, putting their heads down?  Are they in cooperative groups, exploring and learning?  How can you engage students using the NYS modules and units to spark conversation?  Are you using project based learning?  Are you having students reflect on what they are learning?  Are students writing? Thinking?  How are you asking those essential questions?  
You are all great teachers and you are ALL

working

hard to create great lessons.  Please know that I am watching you work together to manage and create inspiring lessons from the NYS modules and units,.  This has not gone unnoticed.  We have to work together as a team and I know that we will all get through this once again, because we are educators, we are born to do it.  As I have stated, you are the best of the best.  I am truly blessed to have such an AWESOME

staff

.  Keep up the great work! Have a great week!
Vicki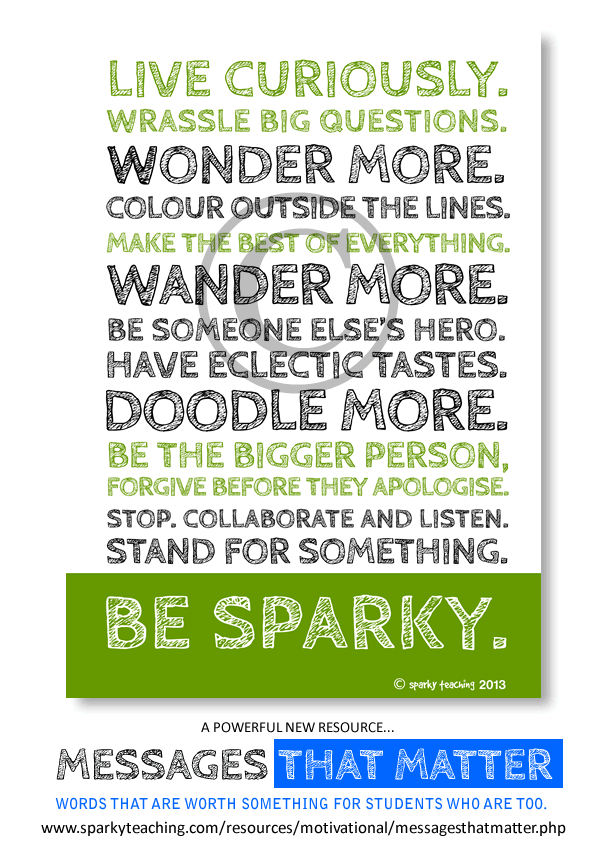 DWIS is Monday.  Please see the agenda I sent to everyone.  Title teachers will be meeting in Paula's room.

Just a reminder that group 2 lesson plans are due to me by Friday, Sept. 20th.

Please remember to take the Math survey that Mrs. Bushey has sent out.  Make sure you take the time and answer the questions honestly.  Here is the link.  

https://docs.google.com/a/

gcsk12.org/forms/d/

1a8xJHAUjvEbxzj7SdS_

BtcZoBqKLzev3Co5ItFuuzaY/

viewform

  I would be surprised if anyone has knowledge of the PARCC exams and the use of the evidence tables.  If you have knowledge of that, please show me because I don't have it and it's not a trick question!

Be ready, I will be starting walk through observations on Tuesday.  Please make sure you have checked the

iObservation

 system to make sure you are linked to ES.  I have to start so I don't get behind.  Look for emails for announcing who I am visiting for a specific day and don't stress about it!

Make sure you are registering for the Math workshops that are scheduled and have been sent to you.  These are mandatory grade level workshops on the CCSS Math modules. Thanks.
Please check the East Side Announcement page for updated dates, announcements etc.  Lisa is updating this continually!  http://gouverneurcentralschool.org/esannounce/

What are the five things you are grateful for?  Make a list daily.  It does wonders!

Be the change agent for kids!  Be a champion for kids.  Every kid deserves a champion!
Other items of interest:
This chart
 lists posting dates and update for SED's
curriculum modules
.


When you think about how many beginning-of-the-year letters and messages go home to families about supplies, homework expectations, and support requests, it was inevitable before a parent sent a back-to-school message back at school. Funny!




Will the
PARCC tests be dramatically
different than the standardized tests we already administer?
This list
 of myths and realities from FairTest explains what will be different and what will be the same.
Calculation Nation is a site
 where students work with
others
students across the country to work on 
math problems and play math games
. It's
fromIlluminations
 and NCTM.
Are you ready for STEM education? This post introduces the notion and tells you what to expect.
This scholarly article
 explores how 
teacher evaluation
 might, or might not, be an effective tool for education reform. The authors
are
dubious about any impact based on the lack of any significant impact of teacher evaluation in the past. They conclude by suggesting that resources should be directed in other directions to actually have an impact on learning.
What makes planning for teaching and learning in a Common Core, standards-based environment
different
?
Standards-based planning
 is what effective and highly-effective teachers do. 
This course
 provides a comprehensive experience for teachers of all subjects at all levels.
These maps compare the relative sizes of different countries and the United States – they can shed light and broaden perspectives through these simple comparisons.
This 
white paper
 about 
PBL implementation
 concludes that you will need a comprehensive, deliberate, sustained, and well-supported effort. Although these characteristics are necessary to implement anything, the paper includes good background, suggestions, and citations for further reading.
This chart
 explains 
calculator use
 on PARCC assessments.