Well, the internet is down at the house, so I ran into work to get this completed.  Ugh!!  Anyway, here is a quick promo, if you are brave, join us Monday, Nov. 4 at 8:30p.m. on Twitter for our bi-weekly chat using hashtag #NYEDChat. Our topic is Student Engagement.   I'm writing about it for my Rethinking Education blog.  We will also be podcasting live December 16 at 8:30p.m. through Google+ and hangout.  We are calling this "Couragoues Conversations:  Tell Us What You're Really Thinking" or "Around the Horn, Education Style."  Either way it should be very entertaining! 

Check out our #NYEDChat wiki page here.  Our moderators are: Tony Sinanis, Carol Varsalona, Blanca Duarte, Bill Brennan, Starr Sackstein, and Vicki Day.  Here we are on a Friday evening, using Google Hangout to plan.  (It's double screened because of my geekness using two screens!  You can see us in the corner on the left screen, LOL!)  It should be fun – this is the voice of education in New York State! Be a part of it!  Have a great week!  Vic


Bus Duty for Nov. 4 – Nov 15 

Team 5: 

 Kathy Buell, Kate Spriggs, Megan Weldon Upcoming bus duty Nov 18 – Dec 16 Team 6: Connie Tubbs, Kelly Ayen, Bev Phelps

Just a reminder that Monday we have DWIS at 3:00ish held at the West Side School

Lisa has placed an email out to teachers regarding report cards.  Please note that Report Cards will be sent home with students on November 15.  
I had to change our staff meeting date to Nov. 19th.  Please make sure that you sign-up on MLP before it goes off.  The topic of this meeting will be dedicated to watching and having a discussion about the movie, Including Samuel, and inclusive classrooms.  Kim Hayes will join us.
Peter DeWitt speaks out against InBloom and Tracking Student Discipline.
Carol Burris writes about the ridiculous Common Core Math Pearson Test for 1st Graders.  
Tony Sinanis writes that It Does Take a Village to help our kids.
Randi Weingarten asks Will States Fail the Common Core?
I will not be creating a post for Nov. 11th  Please make sure you are checking the announcement page daily!
Please check the East Side Announcement page for updated dates, announcements etc.  Lisa is updating this continually!  

http://gouverneurcentralschool.org/esannounce/

What are the five things you are grateful for?  Make a list daily.  It does wonders!

Be the 

change agent

 for kids!  Be a 

champion

 for kids.  Every kid deserves a champion!
Other Items of Interest
When asked about what 
engages
 them in school, the responses from hundreds of students fell into 
these ten categories
. These ten things translate into some pretty good advice for the classroom.
---
Some of the 
controversies around the Common Core
 are 
explored
in a Thomas B. Fordham Institute (which has a very clear stance) forum from earlier this month. Jason Zimba, Tim Shanahan, and others make appearances.
Chapter one (
publicly available
) of the newer book
, Assessment and Student Success in a Differentiated Classroom
, provides a good 
introduction to Differentiated Instruction
. Early in the chapter there is a flowchart-like graphic that is an excellent overview.
---
Ten
 virtual field trips for the modern classroom.
This 
infographic
 expresses the 
benefits of music education
.
---
This 
list
 of 
math video tutorials
 is referenced to the Common Core Learning Standards by grade level.
Compare
 projects that used to be "dessert" with 
Project Based Learning
 in which projects are the main course.
---
Check out the 
collection of resources
 to support 
research
 at all levels: elementary, middle and high school. Use the link or remember
research.ocmboces.org
. You can find all of the resources from the October 25th conference here, too.
The most important school-level factor in student achievement is a guaranteed and viable curriculum (
What Works in Schools
 is in our 
ASCD Collection
). A 
guaranteed and viable curriculum
 only happens when teachers who are called on to deliver the curriculum work collaboratively to:
Study the intended curriculum and agree on priorities within the curriculum
Clarify how the curriculum translates into specific student knowledge and skills
Establish pacing guidelines for delivering the curriculum
Commit to one another that they will actually teach the curriculum
Use common formative assessment
Make adjustments to instruction based on the common formative assessment
The CDC has released 
voluntary guidelines
 to schools on how to 
protect students with food allergies
. The guidelines include: identification of students with allergies, exposure management plans, teacher training, and limits on certain foods in certain locations and situations.
The power of Twitter:  Not every day that you get a tweet from the US Secretary of Education Arne Duncan.  Here I thank him for joining us doing a tweet fest. and he in turn responds.  AWESOME!





A Touch of Humor: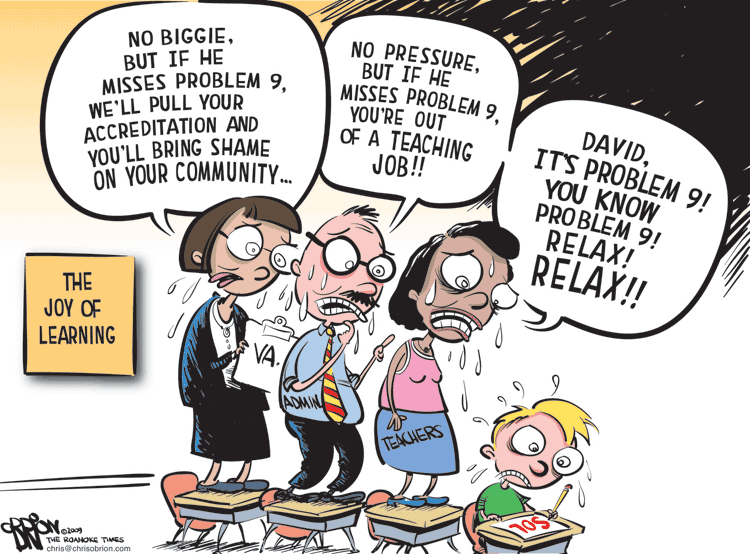 Check this out!