This is a re-post of my blog entry about the STEM to STEAM and Beyond workshop I attended on April 21st.  It gets to the gist of the day.  It was lots of fun and extremely engaging.  Something to think about as we move forward.  Have a great week!  Vic
On April 21, 2014,  I had the opportunity to attend a wonderful conference at the Poughkeepsie Day School, From STEM to STEAM.  It must have been via some tweet either by Pam Moran or Josie Holford that they told me about the workshop and that I had to go.  Sure, why not.  I was ending my vacation so I swung by via Philadelphia, visited family in New Jersey, and up to 287 to 87.
Boy, was I in for a treat.  I have been in contact with Pam Moran through twitter and Pam is so passionate about sharing what her district is doing in Albemarle County, Virginia.    Pam and one of Albemarle principals, Alison Dwier-Selden, of the Walton Middle School lead the keynote for the day and boy, were there some great takeaways!  Their keynote was based on the following:
The Seven Pathways to Learning
Maker-Infused Curriculum

Interactive Technologies

Instructional Tolerance

Choice and Comfort

Connectivity

Universal

 Design for Learning

Passion/Problem/Project-Based Learning
The keynote was about putting passion back into our schools.  What fun to sit a listen to such positivity a week before the NY State Math exams! A question Pam posed:  "How do maker leaders create opportunities for authentic leadership and agency to emerge among educators and learners?  It is a basis of inquiry for me as we move forward.
Another: "Influence comes from many not from a single leader or the hierarchy.  How true is that!  Michael Fullan embraces this idea to build professional capacity in our schools.  Why not include kids?  Embrace and build the trust!  Maker leaders are not in to compliance.  This is old school and 20th century thinking.
Here is what Maker Leaders do:
Hierarchical flattening

Pedagogical entrepreneurship

Boundary spanning

Global networking

Policies which enable rapid change, rapid prototyping, 

not block

 either!
Pam shared some stories about how they created spaces at Albemarle to be 21st century in a library.  They got rid of the outdated storage VCR tapes, old overheads, things that were collecting dust in a storage room and the librarian ripped the walls down and opened the space up to be used as an area where kids can use to hang and use their device.
(Old School)
She spruced up the area and added this to the library: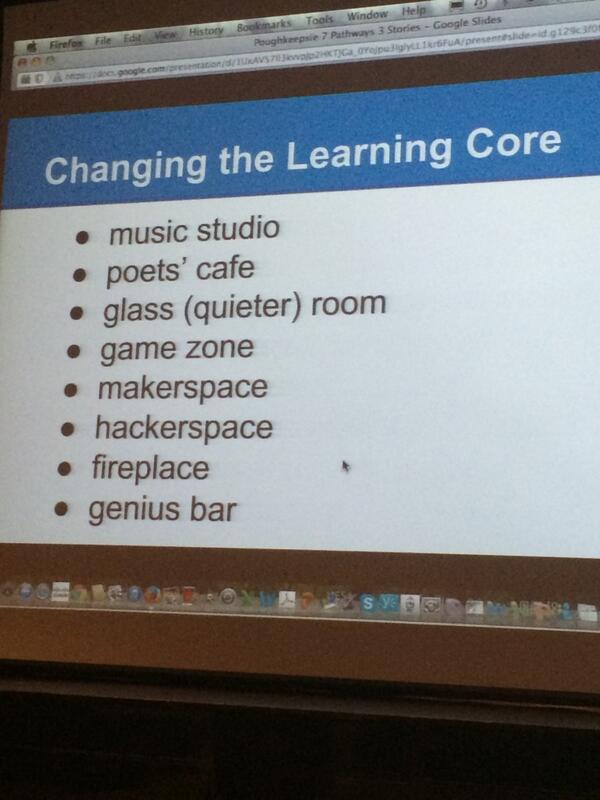 Disrupt your library space, change the marketplace, capture a new audience.  How exciting for kids!
To end, Pam and Alison told us to get 1 or 2 brave folks to take the step just do it.  "Pioneers take the arrows, settlers get the land."  Be brave enough to try something new in our schools, especially in the land of APPR and CCSS.
We had great workshops offered throughout the day as you can see here and I used Storify to document the day here.
We got to see some cool things and learn together:
I want one of these :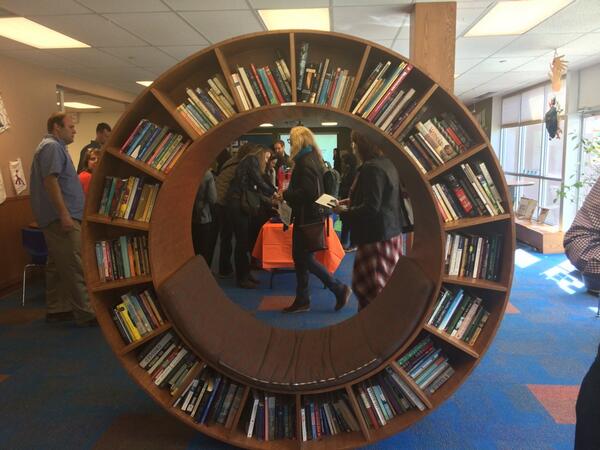 We made speakers out of paper.  Me, I burned my fingers.  (Don't laugh, but it's true.)
The best was meeting folks around the area and creating more connections to my PLN.  I also got to meet Maureen Devlin.  Maureen and I are regulars on #satchat and how wonderful to meet face to face!
We gathered back to close the day and Pam asked us to think about bringing one thing back to our schools to start to change or implement.  I have been pushing my staff to move to project based learning (PBL) and have written about it to them here.  We slowly setting the stage and push for more of this in communication here.
I have to thank Pam and Josie for such an enlightening day.  It has jump-started and rejuvenated my belief that there is a better way!  Thank you!
Bus Duty for April 28 – May 9  Team 6: Connie Tubbs, Kelly Ayen, Bev Phelps  Upcoming bus duty:  May 12 – May 23  Team 7: Paula Bates, Marcie Tyler, Sarah Pawananon

Our Staff Meeting will be in the computer lab across from Steph and Connie's room.  We will be using the computers so be ready to log in.
Did you watch 

12 Years as a Slave

 yet?  Reading the book is even more powerful!  A must read and watch.  This book I know will be on required reading lists for HS students or

a

least it should!

Please make sure you are scheduling a time to meet with me with Mrs. Sheen before June 6th to do our "Walk through #5" and domain 4 of the Danielson rubric.  Thanks

Will

.

I

.

Am was on Meet the Press this morning, speaking about education and how we need more Project Based Learning, STEM/STEAM and creativity opportunities for our kids in school.  He declared a war on education, and I don't think he intended on it being test driven.  The intention was hands-on learning.  Interesting!
Happy Teacher Appreciation Week.  Thank you for all you do!
I will be taking a break next week with this blog as I need to go down to New Jersey to visit my mom and family.  Hospice is in now so this is the beginning of the end, so my time will be devoted to this part of our

lives

.  Thank you all for your support and prayers.  
Things in the blogosphere
The Responsive Classroom website had a great blog about

Making Greetings More Engaging.

 If you don't visit the website, I would put this on your To-Do list.  There is a wealth of information that NEFC puts

in

the website for folks.
Jon Harper guest blogs on Peter DeWitt's blog about

building relationships with students and fostering community in the classroom and school

.  All I can think about is the Responsive Classroom philosophy!
Todd Nesloney is a 5th grade teacher and extremely knowledgeable in tech education and someone to follow.  He writes here is the ISTE blog of how flipped education was hard to manage until he put in PBL.  Check out what he is doing here.
What are the five things you are grateful for?  Make a list daily.  It does wonders!
Be the change agent for kids!  Be a champion for kids.  Every kid deserves a champion!
Other Items of Interest
The Board of Regents did adopt the Social Studies Framework. There will be no immediate changes. The Field Guide, due in the summer, will have more information about implementation.
The application of principles of good coaching of sports teams can help teachers transition away from monologic discussions toward better discussionsand collaboration.
The April issue of School Administrator considers the central office and how it can be re-imagined to become more focused on instructional leadership and how to better support principals.
Here are ideas for integrating the arts into other disciplines.
The New York Times had an interesting piece about moral education. There are implications for parents and schools.
Gathering feedback from teachers about the evaluation system in their school can help improve the implementation while also having a positive influence on school culture and climate.
A common denominator in the school improvement equation is teacher leadership. At this year's annual Teacher Leadership Conference on May 27th we will continue to explore the role that teacher leaders play in the school improvement calculus, including:
Regents Reform Agenda
Professional Learning Communities
Career & Technical Education and Co-Op
Common Core and Literacy
Teacher Centers
Another New York Times piece summarizes the research about parent involvement in schools – what impacts student achievement and what does not.
We now talk a lot about grit in our students – but how about grit in our teachers? Maybe grit is a missing element in our teacher evaluation rubrics!
This column suggests that the best way to implement the Next Generation Science Standards would be one year at a time, beginning with the youngest students.
This site has links to many of the most-used rubric making tools.
This approach to classroom rules sorts them into five different categories: academic, social, procedural, cultural, and personal.
These are good reminders about finishing the school year strong. The test is not the end!
Parents help with homework might not help, after all. In fact it might hurt! This is helpful information to parents and it is helpful information to teachers for their consideration when designing good homework.
In celebration of Teacher Appreciation Week:
All Grades | All Subjects | Inspiration

We gathered some amazing educators to share what they think teachers are… (magicians, sages, lifelong learners). And don't miss the opportunity to tell us what YOU think teachers are! 
A Touch of Humor